Hello to all of our Pretty Little Peacocks
Welcome to Pinque Peacock's
MAY New Release
"Shades of Summer"
BLOG HOP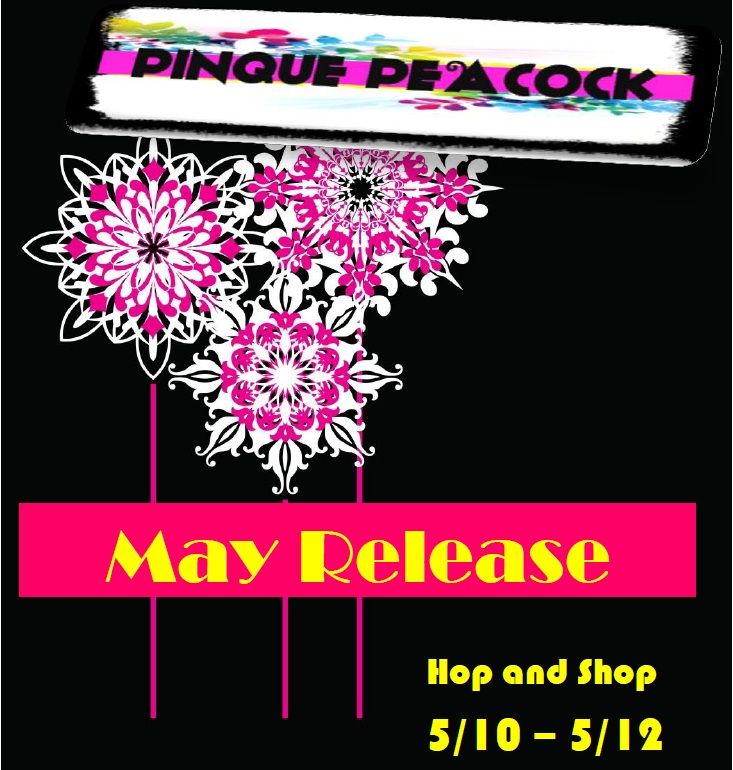 We hope you will enjoy your time as you hop and that you feel inspired to create after visiting the Talented Pinquettes' Blogs! This hop will showcase projects that have been created using some of the
MAY NEW RELEASE
Products from
Pinque Peacock.
We are thrilled to have you joining us this month as this is a very special New Release of products and we are all so very excited to share it all with you! Our May Release is full of beautiful color palettes, wonderful inspiration from the Pinquettes, and fabulous sparkle and shine as we celebrate SHADES of SUMMER.
After hopping, be sure to visit the
Pinque Peacock Shop on FB
to order the New Release items to jazz up tons of your projects.
Pinque Peacock Mary here!I am so excited to share my project with you today. After a slight mix up I still have a project to share with you today. My mailman was held hostage (not really, lol ) so I am going to show you a card with some PP products I already had on hand.
It seems like forever since I have made a card, but, since I have a Bridal Shower to go to today, I decided to make this one and , of course, use the fabulous Pinque Peacock fancy swirls and Angel stick pins.
This was a quick, fun card to make. I used the CTMH Art Philosophy cartridge with the cut from page 37. I used the card, layer and decorative layers all cut @ 5.50". I must confess that I did this card twice. The first one I used the printed pink paper for the background with the hearts, however it looked too busy.
I really wanted the swirl flower and stickpins to be the main focus so I decided to go with a solid pink background. In order to further bring out the swirl, I decided to emboss the background with a swirl embossing folder from Cuttlebug. It still needed something so I misted the card stock with Perfect Pearls. Then I decided I wanted the cut on the frame to stand out some more, so I Cut off the sides on the pink layer. This is what I mean:
By doing it this way, it was easy to line up the layers. The printed hearts were then added to the opening. (These are the same ones left over from my "rejected" project.
After adding the hearts, I used some Liquid Pearls and Silver Stickles to bring out the hearts. I also added some black pearl embellishment to the sides. Look how beautiful this is with the flower and stick pins! I added the pink Angel for her and the white one for him. Now I bet you are wondering what I did with the solid heart cut outs. Well, here they are:
If you guessed that I used them on the envelope, then you are correct! This card is so easy to make and would look fabulous in the new May Release colors!!!
!!!!Now, let's talk about the
BLOG HOP PRIZE!!!!
One winner, who has hopped all 3 days (Friday, Saturday, and Sunday) of our Pinque Peacock MAY New Release and followed the RULES BELOW will win this . . .
A Set of Small or Large Buttons
from the Release (Winners Choice!)
Here is How*:
1 – Hop to ALL of the stops over the course of the 3 Day Hop and comment at each Pinquette Blog (Lineup for all 3 Days is below)
3 – Follow EACH of the Pinquettes' Personal Blogs who are participating as Hop Stops this weekend.
*You MUST do ALL of the steps above to be included in the random drawing for the prize. We would hate for you to lose out on winning just because you didn't follow these easy rules :(
The Hop will remain open until Wednesday, MAY 15th, at 8:00 a.m. EST.
The random drawing will be held sometime during the week that follows and announced by Wednesday, MAY 22th.
Now, if you find yourself Hopping off the Path on any of the three days, you can use this Lineup to get back on the Right Track . . .
DAY 1 (5/10/13):
Also be sure to become a follower :
Are you a follower??... Become a follower
and check out the rules...
you could be a lucky winner. Tell your
~ One Cricut Destinations Cartridge
~1 set of Pinque Peacock Purple Beaded Stick Pins
~Several Pinque Peacock Handmade Felt Poppers
~ One set of

NOT EVEN RELEASED YET

Pinque Peacock
Teal Fabric Covered Buttons (1.5" eyelet) with small purple star flower accent
~ One Button BINGO Stamp by Unity Stamp Co.
~ ~ ~ ~ ~ ~ ~ ~ ~ ~ ~ ~ ~