How are all of our Pretty Little Peacocks Today?
Boy, Oh, Boy do we have some FUN in store for ALL of YOU
Welcome to DAY 1 of our Cross Promotion Blog Hop
with the talented Designers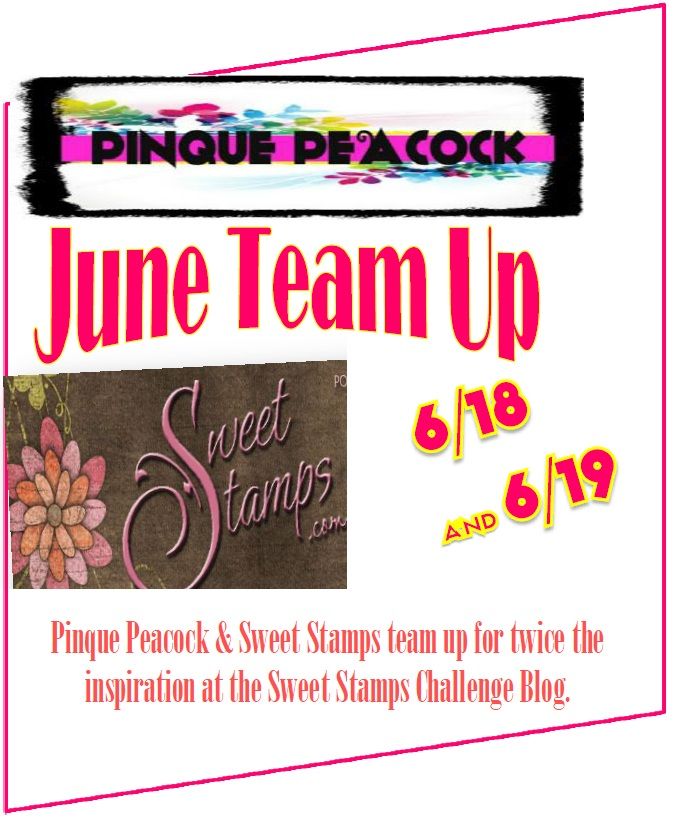 If you are arriving here from
Roxie

's Blog, then you are right on track. However, if you would like to start at the beginning, please head over to either of the Main Blogs
Sweet Stamps (http://sweetstampsblog.blogspot.com
Pinque Peacock (http://pinquepeacock.blogspot.com/)
This will be a 2 Day Hop starting at the Sweet Stamps Blog and the Pinque Peacock Blog each day.
Please DO VISIT each of the Main Blogs to show your love to
BOTH Companies that have organized this fun event for you! Tell Your Friends, too....Lot's of Eye Candy along the way!There is sure to be lots of Blog Candy, too!!!
have been working their Creative Efforts to the MAX behind the scenes,
to create some wonderful projects using
where the new Challenge will start and the theme will be everyone's favorite:
ANYTHING GOES
Now, onto my project today . . . .
Good morning my sweet friends and
Pinquettes. I am so excited to be part of this fabulous event. In case you just stumbled upon my blog please let me explain what all the excitement is about. Jess from the Pinque Peacock and Stacey and Kendra from Sweet Stamps offered products from their companies to the members of both Design Teams for us to create some fabulous projects for you. We have busy creating with all our goodies and boy are we having fun!
The Sweet Stamp products I chose to use were: Wedding Swans and "with love" rubber stamps and also some gray ink spot. The detail on these stamps is fantastic and a great image to color with my copics. The Pinque Peacock products were: a large button from the May Release and a beautiful angel stick pin from the June release. I also used some 3girl jam ribbon that you can also get @ Pinque Peacock shop on FB. Just to get some business out of the way I have provide links to their shops below:
Since we had a wedding to go to in May, I thought for my project I would use the Wedding Swans Stamp. Here is what I came up with:
First I stamped the image with Momento Marker in Sweet Plum Ink because I wanted the colored image to stand out rather than a black outline. I used several Copic techniques to color my design. I have included the supply list of the copics below this post for you all to experiment with.
I started with a piece of grey card stock that has a sheen to it. I used the Spellbinders classic scalloped circles-large to make an aperture in a 5"x7" card. I also cut a piece the same size out of pink card stock. This gave me my placement for the image. In order to make sure it lines up perfectly, I add a glue dot to the back of the circle and carefully lower into the opening. Once I know that it is centered correctly I can then use my Xyron tape to hold it all in place.
Voila, perfectly centered! After I carefully colored my image I added some stickles to the flowers and to make the water glisten. I also used some gold Liquid Pearls for the wedding rings. Notice the slight blush to the swans cheeks. They look like blushing love birds, lol.
I just love the colors in this button and how it picks up all the colors I used in the stamped image. No matter what Pinque Peacock products I use, they always bring out the best in my work. Of course I had to add an angel stick pin. Believe me when I say that the pictures do not do these justice, they are so beautiful in person. I finished this card off by adding the sentiment with a Spellbinders deckled rectangle cut piece of card stock and Sweet Stamps "with love" sentiment. Since I layered this on a piece of glittered card stock
(we all know how hard it is to adhere anything to it, lol) I used some small heart brads to hold it all together. The look was completed with some 3GirlJam ribbon from the pink and white bundle.
I find sometimes when you make this type of card that it is hard to be able to add money or a gift card inside. You know I'm right,lol. So this is what I came up with:
Yup, I added a small glassine envelope inside! This allowed us to add $$$ to the inside, still have room to write and add an element of surprise when they opened the card.
I hope you have enjoyed my card and please be sure to check out the members on both Design Teams as well as visit the shops of these fabulous companies. Below you will find the copics that I used. Have a wonderful day!!!!!
Copic Recipe:
Swans: W1,W3,W5
Beaks: YR01, YR02, YR07
Callas: R81,R83, R85
Spike Flowers: V12,V15,V17
Anthrium: Y21,Y23,Y28
Water: :BG02,BG05,BG07
Greenery: G20,G21,G24,G28
HERE ARE THE FANTASTIC PRIZES BEING OFFERED TO 2 LUCKY HOPPERS
(Prize Drawing Eligibility Rules are Below)
Sweet Stamps is Sponsoring a Prize to 1 Lucky Hopper
1 PERSON WILL WIN
Gift Certificate can be used towards any Stamps, Sweet Stamps Dies or Shades Dye Inks
Pinque Peacock is Sponsoring a Prize to 1 Lucky Hopper
A 2ND PERSON WILL WIN
Fabric Buttons, Handmade Fabric Flowers, and Pearl Beaded Stick Pins
all in Coordinating "Nana's Pillowcase" fabrics and colors
RULES TO BE ENTERED TO WIN
1 - HOP BOTH DAYS
2 - LEAVE A COMMENT ON EACH HOP STOP IN THE HOP
3 - FOLLOW BOTH SWEET STAMPS AND PINQUE PEACOCK ON FB
(LINKS ARE BELOW THE LINEUPS)
Winners will be selected towards the beginning of Next Week (Monday or Tuesday-ish)
to allow everyone ample time to visit all of the Hop Stops along the way!
Now, you should be sure to head over to
Monica

's Blog to peek at her beautiful creation and get all the details on how it was created.
~~~HERE IS THE FULL LINEUP FOR BOTH DAYS~~~
HOP LINEUP - DAY 1 (6/18/13)
SS Blog
http://sweetstampsblog.blogspot.com/
Pinque
Peacock ~ http://pinquepeacock.blogspot.com
SS Blog
http://sweetstampsblog.blogspot.com/
Pinque Peacock ~
http://pinquepeacock.blogspot.com
HOP LINEUP - DAY 2 (6/19/13)
SS Blog
http://sweetstampsblog.blogspot.com/
Pinque Peacock ~
http://pinquepeacock.blogspot.com
THANK YOU SO MUCH FOR JOINING US FOR THE CROSS PROMOTION BLOG HOP TODAY.